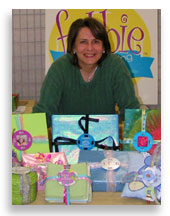 Liz Mrofka, President
The Fab Fob Company, LLC
I had the idea for the Fobbie® a few years ago when I was reading a magazine that showed how to make homemade gift tags for your gifts. At the time I was recycling pine beetle killed trees on my land by making rustic ornaments that were stamped with images of moose and bear. I thought they would look good as package décor and wondered how I could incorporate ribbon into the ornament to tie it to a package. Many hours later in the middle of the night, I woke up with the idea for my parallel slot system. After many prototypes and ideas, it developed into the patented product you see today.
The Fobbie® name comes from the word fob who's definition is "an ornament that hangs at the end of a ribbon." which describes it perfectly. It was easy to turn it into the Fobbie®, which gives it its own playful name and identity. So The Fab Fob Company, and the Fobbie®, were born.
I'm often asked about the process of inventing a new product and where to start.
I started by attending a meeting at my local inventor's club, the Rocky Mountain Inventor's Association, www.rminventor.org. I learned about the process of patenting a product, manufacturing, marketing and more. If this is something you're interested in, there are many websites that can help, starting with the United Inventor's Association website at www.uiausa.org, or the Inventor's Digest, www.inventorsdigest.com.
You can also visit my blog about my inventing process at www.inventorsjourney.com.
If you have a question, you can click on the link below and it will text me on my cell phone. You can follow me on Twitter at FobbieGirl, or Facebook at facebook.com/fobbiegiftwrap.
Happy Wrapping!
Liz


The Fobbie®, meets the three "R's". Reduce: Our product is durable and long lasting, it can be reused over and over. Reuse: Because we are often celebrating some occasion the Fobbie® can be reused on packages we gift to others, or it can have an alternative use, such as an ornament or a refrigerator magnet. Recycle: The Fobbie® is made from recycled materials, so even after it has lived it's life, it can be recycled again.

A Place for Grace, 2700 College Ave., Fort Collins, CO

Are you interested in a fundraiser for your organization? The Fobbie is the perfect product. We can do a traditional sell sheet, or for ease, you can email your list with your assigned code and then your visitors check out using the code and receive free shipping. We pack and ship directly to them. We tally all your sales, give you a list and write you a check, how does it get any easier? Use our Contact Us page with Fundraising in the subject line, and your contact information and we'll have a conversation about getting you started.how

A great article written by Allison Melun a Denver area writer and editor. Colorado Country Life is published for rural residents and families of Colorado.
Read the story.


The Fobbie debuted on QVC in October on their Christmas Shoppe Segment, with the Fobbie Holiday Wrap Pack.




August 2010


Three years ago I started meet to four woman who would effect my life in great ways. We have networked and shared contacts, knowledge and genuine caring for one another's success.

Maryjo Morgan wrote a nice story about the five of us that appeared in this issue of the Northern Colorado Business Report.


2009

The Fobbie® appeared on the Dec 2nd's NBC
TODAY SHOW–4th Hour with Hoda and Kathy
Lee HOLIDAY GADGETS segment with
Gadget Nation author Steve Greenberg



The Fobbie and I appeared on Fox 21 News in Colorado Springs with Tim Elbertson, Morning Meteorologist.



Reporter David Young of the Fort Collins Coloradoan, interviews Liz Mrofka about the Fobbie®
Read the story here.
August 2009


(Rich Abrahamson photo/The Coloradoan)

The Fobbie® debuted in over a 1000 Michaels Craft Stores in the U.S. and Canada.
June 2009
(NOTE: The Fobbie is not presently being carried there.)


An interview with Liz Mrofka about the Fobbie® recently appeared in Cloth, Paper, Scissors enewsletter. To subscribe to this newsletter visit www.quiltingarts.com
May 2009

Keeping It Real Colorado TV Show on KWHD in Denver Career Spot on Inventing April 2009




July 2008

The Fobbie® is featured in Gift & Decorative Accessories, On Trend, What's Hot. What's New. What's Notable. Gift Wrap, Top If Off.

June 2008


June 2008

Best at the NSS article

May 2008

The Fobbie

®

is featured in Gifts and Tablewares Magazine "Gift TV" video coverage of the National Stationary Show New
Product Winners and Article

The Fobbie® wins Best New Product Award in the Party Category at the National Stationary Show, May 2008

New York, NY, May 19, 2008. . .The addition of "Think Green" categories to the Best New Product Awards competition at the National Stationary Show propelled the contest to a new level, as judges reviewed a record-breaking 375 new products to select 13 winners. The coveted Awards are presented in 12 categories and are considered a top honor within the social stationary industry. . .

Party Category:
The Fab Fob Company, LLC (Drake, CO), for Fobbie, a 4-inch, slotted square or round card that is adorned with a greeting or personal photo, allowing ribbon to be weaved through in opposite directions, cinching the package tightly and eliminating the need for bows that are easily crushed. . .

"These exhibitors are innovators and trend-setters in an ever-evolving social stationary industry," said Patti Stracher, show manager. "Each product that captured the attention of our judges exemplifies creativity, functionality and fun - and in the case of our "Think Green" winners - social responsibility. These companies are to be commended for their ingenuity and continued efforts to provide the industry with fresh resources."